How blogging led to a dream job
Rema Gouyez Benallal's career has whisked her to Paris, but it all started with an "awful" post about lipgloss

Hi, I'm Wing Sze Tang and you're reading The Knowhow, a weekly newsletter featuring stories and strategies from women sparking change. As a longtime journalist, I wanted to create a space for highlighting high achievers, boundary breakers and up-and-comers across industries, from arts and culture to science, politics and sports. I hope you find each edition interesting, informative and/or illuminating in some way. If this issue was forwarded to you, add your email below to join the list! —@wingszetang
---
IN THIS ISSUE
One-on-one with Rema Gouyez Benallal, Paris-based global advocacy and influencer marketing director for L'Oréal

"I'm speaking" is the latest extremely relatable meme

Worth-your-time recommendations from writer Mishal Cazmi

Handy scripts for your salary negotiations in tech

HOW TO TURN A BEAUTY BLOG INTO A DREAM JOB IN PARIS
A decade ago, Rema Gouyez Benallal was a beauty intern at FASHION while doing her degree in journalism; she'd moved from London, England, to Toronto for an exchange year. I don't recall exactly when we met, but it was most likely on the schmoozy media events circuit (at the time, I was the beauty and health editor at another magazine, FLARE). I do remember her as ambitious and charming. Rema went on to start her own lifestyle blog, The Burgundy Book (a nod to her British passport), while trying to find her way in a bleak, post-recession job market—sending out her résumé for months without much success, as she said in a 2013 HuffPo article on the Gen Y workplace. 
Fast forward to today, and the expat Londoner's real life is the stuff of aspirational, millennial-bait Netflix fantasy. Consider her the protagonist of Rema in Paris (her Instagram offers a picture-perfect glimpse), strolling the cobblestoned streets of the French capital while working as the global advocacy and influencer marketing director for L'Oréal—oh, just one of the largest beauty empires in the entire world. 
Recently I caught up with Rema over video chat to talk about how she landed her dream job (and also, how she gets her skin so very glowy). Read on for how she sees the art of relationship building, how she reacts to men telling her she's too opinionated, and how she made the crucial career move that ultimately led her to Paris.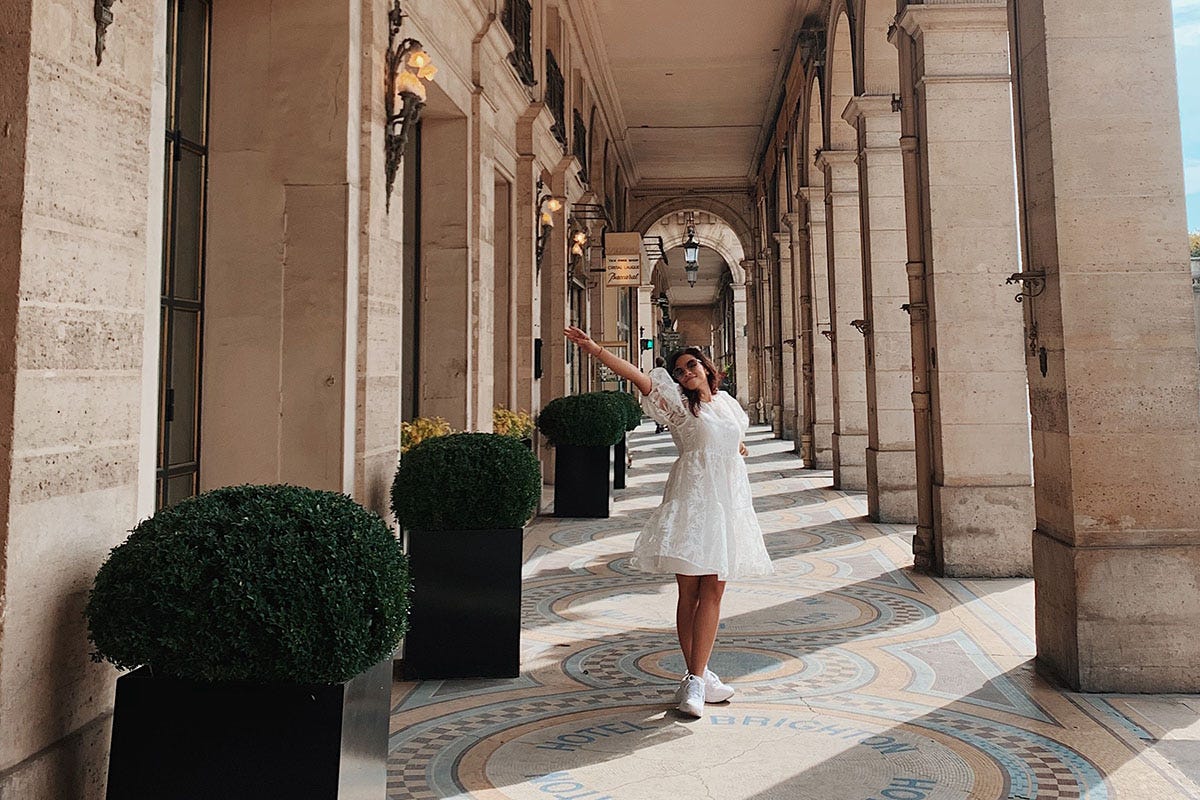 Rema Gouyez Benallal in Paris
Interview has been edited for length, clarity and flow.
An
old Huffington Post article on millennials in the workplace
described you as "terrified" because professors kept saying it was the worst time to be job hunting. What were your aspirations right after j-school?
This is going to sound sad and awful, but I do have to be honest. I grew up in a situation where we didn't have a lot. So at the time, my number one focus was getting a job where I could earn enough money to live. And my mum was like, "You're never going to get anywhere with a journalism degree." She always says that was the only mistake she made with me: telling me that. She is, of course, so proud of me now!
I started out writing as much as I could, freelancing, trying to get experience. But I wasn't the most talented writer. Some of my editors in the past would essentially tell me that. I just really struggled to get my words together. So I thought, Alright, I need to start thinking about other ways to make money. And I thought this whole blogging thing could be a way to show people how creative I can be. So that's why I started to go down that route.
While doing research for this interview, I realized we have a similar upbringing. I was also raised by a single mom, who is also an immigrant. A lot of that shaped my approach to my career—like, failure was not an option. How did
your mother
shape your approach?
She's the whole reason I am where I am today. I was the first child, so she was extra strict. She didn't allow me to play with friends after school, go to sleepovers or any of those normal teenage things. And failure was absolutely not an option. I wasn't very good at school, so I had to work extra hard to get a decent grade. 
She wanted me to work in medicine, so she wasn't very pleased with me for wanting to go down a more creative route. But the thing she taught me, the most important part, is that knowledge is power, and education is the key for me to move into this dream life, which I admit I have now. She was like, "If you want to get somewhere, if you don't have money, if you don't have contacts, then you have to be educated."
A mentor from your
FASHION
internship days said on LinkedIn she knew you were going places because you're not only highly skilled but also have "a gift that you simply can't teach": how to build relationships. But let's say you
can
teach it. What do you do?
It's about being really honest and being yourself. It seems obvious, but actually being yourself could backfire. You're taking a risk being that open about your thoughts because someone might say, "Well, I don't agree," and be offended. But honesty is key. And also authenticity. In my career, I've realized some people are not being their true selves. Their personality is for show, to get to where they want to be, and it's more of a game. But you have to be yourself, and if people end up not liking you, then you're just not going to get on with them.
Also, take time with people, not because you want something, but because you just want to get to know that person and understand who they are. Something I've always done from a young age is to find the good in people and latch on to that. Like, I love this particular thing about that person. I just really focus on that. I think that's probably where my relationship building has been quite successful. I will say this sounds a bit calculated, but it's really not. It's just an aspect of my personality. I'm always like, I want to see what this person loves and what they're passionate about, and you know, spend time kind of nurturing that.
That same mentor told you, "Stop applying for internships and you'll get the job you're looking for. Know your worth." Did that change your mindset in a pivotal way? 
I'm mentoring someone now, and that was the first thing I said to her because that comment stuck with me for life: Stop and understand your worth. Don't assume you're a lot better than you are, but understand what skills you have and what you can offer.
You broke into beauty PR in an unusual way—by tweeting Benefit Cosmetics. Do you remember what you were tweeting? 
It was an awful blog post about these lipglosses they've now discontinued. And it had a stock image—I hadn't even taken my own photos. The language is terrible and it's three paragraphs long, so it's not even a blog post. I tweeted it to Ruth [Goudie, then marketing and PR manager for Benefit Cosmetics in Canada], who was on the hunt for a part-time social media manager. She said, "I love your tone of voice on social. I think it matches the brand. Would you come in for an interview?"
Back then you couldn't afford to do a part-time thing, but did it anyway. 
My sister, even though she's younger than me, is my wise sense of direction in life, and said, "You will succeed in this, so I think you should take the leap." Growing up, I was so poor and she was always like, "We're going to make it work. Let's just get all our funds together." We would always do that for each other. We would bucket whatever we had and share the money.
I couldn't afford to go on a part-time contract, so I took a hostess job [at the same time], which I was abysmal at. I couldn't grasp the skill set you need to be a hostess, because my mum would never let me out to bars. Then after seven months, Benefit gave me an offer letter and said it was full time, and I quit my other job. 
I know this sounds crazy, but every time I've had an offer letter from a company—even up to this job—I've called my mum in hysterical tears, crying, I can't believe it. 
How exactly did you turn that part-time gig into a full-time position? 
I went outside my job description. I bought a camera and started shooting content for them. We were the first market globally to be shooting lifestyle Instagram content. Every weekend, I would have Benefit products in my bag, just in case I saw something I could shoot. I remember taking a picture of Benetint in front of a big maple tree because the colours matched. I was always trying to deliver more and do it in a creative way, so that's what took me up the levels. 
Are there any career clichés you disagree with?
The cliché that business is a man's world—I've never allowed that to be a barrier for me. That's not to say I haven't had many men say some shocking things to me at work. I've just been like, No, not gonna listen to you, really. And by shocking, I mean trying to limit my success or limit what I do within the company. I'm sure it's different in banking or finance, but certainly here, it's not a man's world. 
You can shape your own future and be bold, and you have to be okay with someone telling you you're too bold because I've been told that many times. "You're too opinionated," "you're intimidating," "you need to learn when to not speak"—those comments have always come from men, which is interesting. At first, it really bothered me because it was from men in positions of real power. So I started to second-guess myself and think, Should I be more quiet? But within two days, it's like, Nah, you're never gonna be that person.
What's brought you to where you are now, in Paris? 
[Before this role] I interviewed with two other companies for dream jobs. But when I handed in my resignation to L'Oréal, they were like, "No, sorry, we don't accept. We think you're making a mistake." A mentor told me not to think about that job I was going to take, but about the job I wanted—two, three, five years down the line. 
My boss said, "This is where you are now and this is where you want to get to. Realistically, if you take the job I'm offering, you will project much faster." And within 18 months of taking that job, they asked me if I wanted to move to Paris. I think it's really important to think long term and not to follow something just because it looks shiny and new. This was genuinely the single best decision I made.
Last question: After working in beauty for so long, what are your three all-time Holy Grail products? 
One is quite new: Sarah Chapman Skinesis SPF is unbelievable. If you don't have lots of spots to cover up, it makes your skin just absolutely glow. And there's never a day where I don't get compliments if I'm wearing just that. I've used Kiehl's Clearly Corrective Dark Spot Solution for about five years now. If I have a dark spot, it gets rid of it within two weeks. Finally, Sunday Riley Juno is an antioxidant facial oil that keeps hydration in my skin and also makes it very, very glowy.
---
NEWS FLASH
What I learned this week:
Last night, as Kamala Harris sparred with Mike Pence on a plexiglass-separated stage, she had to toggle between politesse and assertiveness, countering Pence's chronic interruptions with an instantly meme-worthy "I'm speaking." Like all women in power, the Democratic VP nom will be judged on her "likability"—a game with gendered rules we shouldn't even have to play. But until we eliminate systemic bias, Joan C. Williams, co-author of What Works for Women at Work, offers a few tactics in this 2019 NYT article on escaping the likability trap.

Trump has been the biggest superspreader of COVID-19 misinformation, according to a new Cornell study. While I'm not surprised about that, did you know when people repeatedly hear the same untruth, they often come to believe it—even if they previously recognized it as false? It's all due to the "illusory truth effect" (read this fascinating explainer on the weird human brain).

Until now, only five women had ever won or shared a Nobel Prize for chemistry (that's out of 184 honourees). This year's award adds two more: Emmanuelle Charpentier and Jennifer Doudna, pioneers of the revolutionary (though controversial) CRISPR gene-editing technique. Described as "a tool for rewriting the code of life," it's already advancing cancer research and potential treatments for inherited diseases. Good thing Doudna ignored the high-school counselor who told her girls don't become scientists.

TIME WELL SPENT
For this week's shortlist of things to do right now, I enlisted a guest editor: fellow beauty writer Mishal Cazmi. You may have spotted her bylines in magazines like FASHION, Hello! Canada and S/, or her face on TV shows like The Social. She also has a website called 100 ML, which explores the world of beauty through travel. Most recently, she launched an email newsletter, Small Joys—and doesn't that sound like exactly what we all need?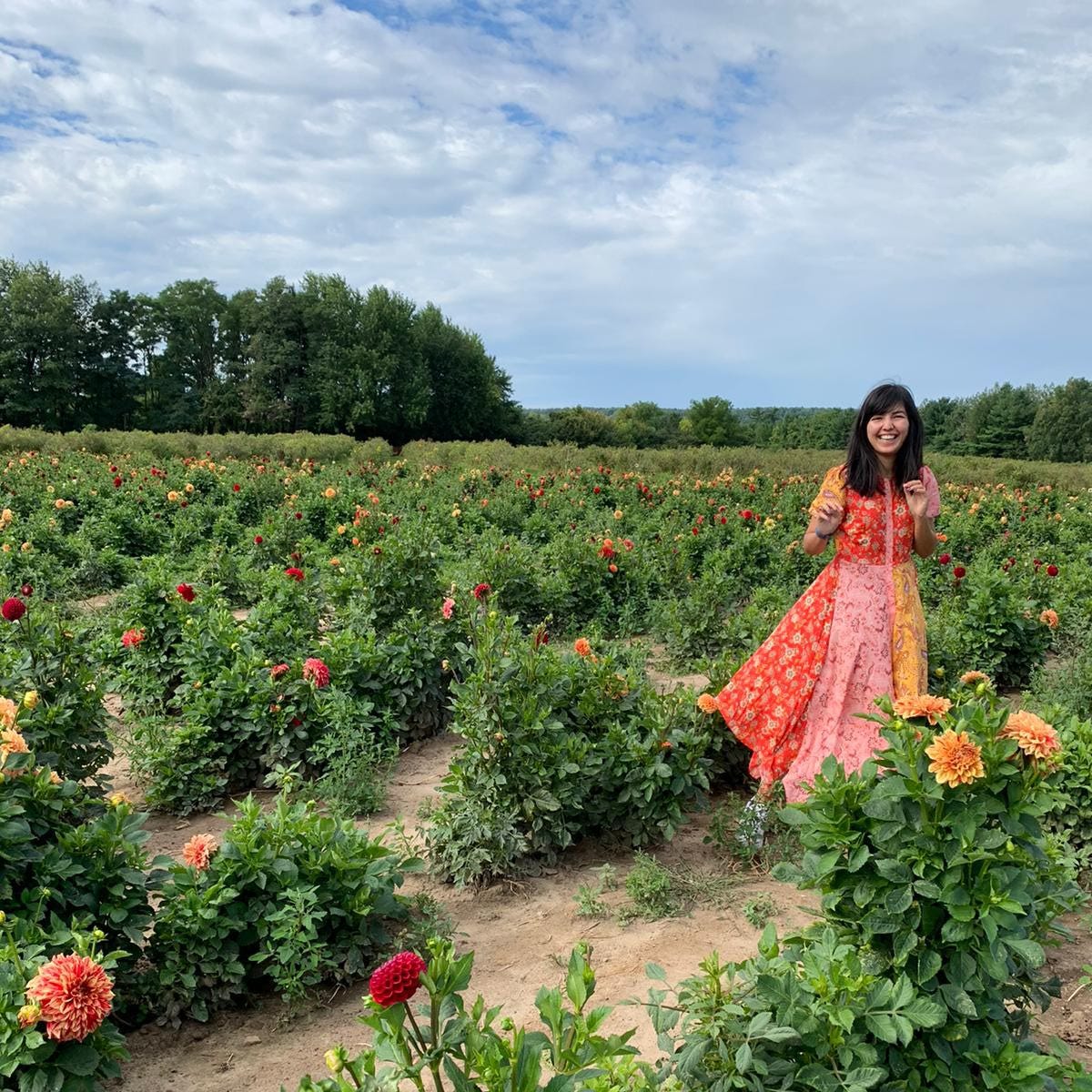 Mishal Cazmi in a dahlia field
Read on for Mishal's recommendations:
LISTEN: "Home Cooking is a podcast by Samin Nosrat, author of Salt, Fat, Acid, Heat, and Hrishikesh Hirway where they help you figure out what to cook at home during quarantine. Listen if only for Samin's infectious laugh. The punny episode names are also a delight, like 'Kohlrabi: Turnip for What?' with guest Antoni Porowski, and 'Gettin' Jalapeño Business' with guest Rachel Khong."
WATCH: "If you miss seeing Sohla El-Waylly on Bon Appetit's Test Kitchen, you can get your Sohla fix over at the Binging With Babish YouTube channel, now called the Babish Culinary Universe. The channel just introduced a series called Stump Sohla, putting El-Waylly's skills to the test in a 'game show'-style challenge. In one episode, she's tasked with making 18th-century mac and cheese. 'I think I'm going to use a lot of cheese because back then, they died young,' she reasons as she plans out her recipe."
READ: "So much of what I've been doing during the past few months of the pandemic has been neatly laid out and explained by Atlantic writer Amanda Mull in 'Why Americans Have Turned to Nesting.' We're spending so much time indoors (which doesn't seem like it'll be changing anytime soon), it might as well be in a space we love. 'It's a desire to eliminate your home's nuisances and aggravations in order to maximize comfort,' writes Mull about nesting. For me, that's meant bed linen upgrades, more plants, shelf makeovers and finally putting up that gallery wall."
---
OPPORTUNITIES & RESOURCES

WORTH REPEATING
"Keep chasing the things in your heart, even in the midst of disappointment and uncertainty. It's worth it."
—Sara Hall after unleashing an astonishing finishing kick at the 2020 London Marathon, sprinting past rival Ruth Chepngetich in the last 150m to place as the second-fastest woman, and setting a personal best of 2:22:01 at age 37

LAST BUT NOT LEAST
If you're wondering who's writing this:
My name is Wing Sze Tang, and I'm a freelance journalist. I've spent much of my career telling stories for some of Canada's biggest magazines, like ELLE Canada, FASHION and FLARE. (Find some of my articles here.)
You can support this free newsletter (thank you) by forwarding it to your friends, sharing it on social media or sending me your thoughts. I check my email (wing@theknowhow.news) far too much.
Thanks for reading, and see you next week!