How to break into the dude-centric world of sports media
Jacie deHoop, co-founder of The Gist, talks about getting into the game

Hi, I'm Wing Sze Tang and you're reading the second issue of The Knowhow, a weekly newsletter featuring stories and strategies from women sparking change. (If you missed the first one, catch up here.) As a longtime journalist, I wanted to create a space for highlighting high achievers, boundary breakers and up-and-comers across industries, from arts and culture to science, politics and sports. I hope you find each edition interesting, informative and/or illuminating in some way. If you do, it would make my day if you tell a friend. —@wingszetang
IN THIS ISSUE
---
HOW THE GIST BROKE INTO THE (METAPHORICAL) MEN'S LOCKER ROOM
For this week's feature interview, I did a Zoom chat with Jacie deHoop, one of the brains behind The Gist, a women-run sports media startup that publishes a popular twice-weekly newsletter, and also launched a weekly podcast early this year. Recently, deHoop and her university-friends-turned-co-founders, Ellen Hyslop and Roslyn McLarty, snagged a spot on the Forbes 30 Under 30 list in the media category for 2020—impressive for a brand that's just two years old.
Now, I'll confess, I'm not exactly an avid sports fan: The rules of the game are often too opaque for a noob like me to understand, though bandwagons are sometimes irresistible (yes, the Raptors' history-making NBA win was thrilling, even if I only sort of grasped the plays). But hey, maybe part of the problem is that traditional sports media content is mostly created by dudes, for dudes?
The gender gap is vast: According to a 2019 report on the status of women in U.S. media, sports desks at 75 newspapers and news sites collectively scored an F (in fact, the sixth F in a row) for lack of gender equity. Coverage is likewise one-sided: Only 4 percent of sports media content is dedicated to women's sport.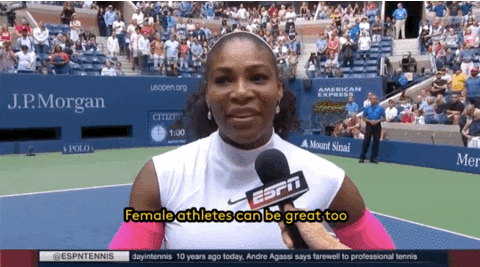 ☝🏻 What Serena said
That's why I'm totally inspired by the women founders behind The Gist, for not only successfully breaking into the old boys' club (slash men's locker room), but also pivoting into a whole new career (all three worked in finance before leaping into media) and bringing their own distinct points of view.
Read on for my interview with deHoop about how she and the team got The Gist off the ground, what advice she'd give to other aspiring bosses, and why they're not afraid to talk about sexism, racism and homophobia in the sports world.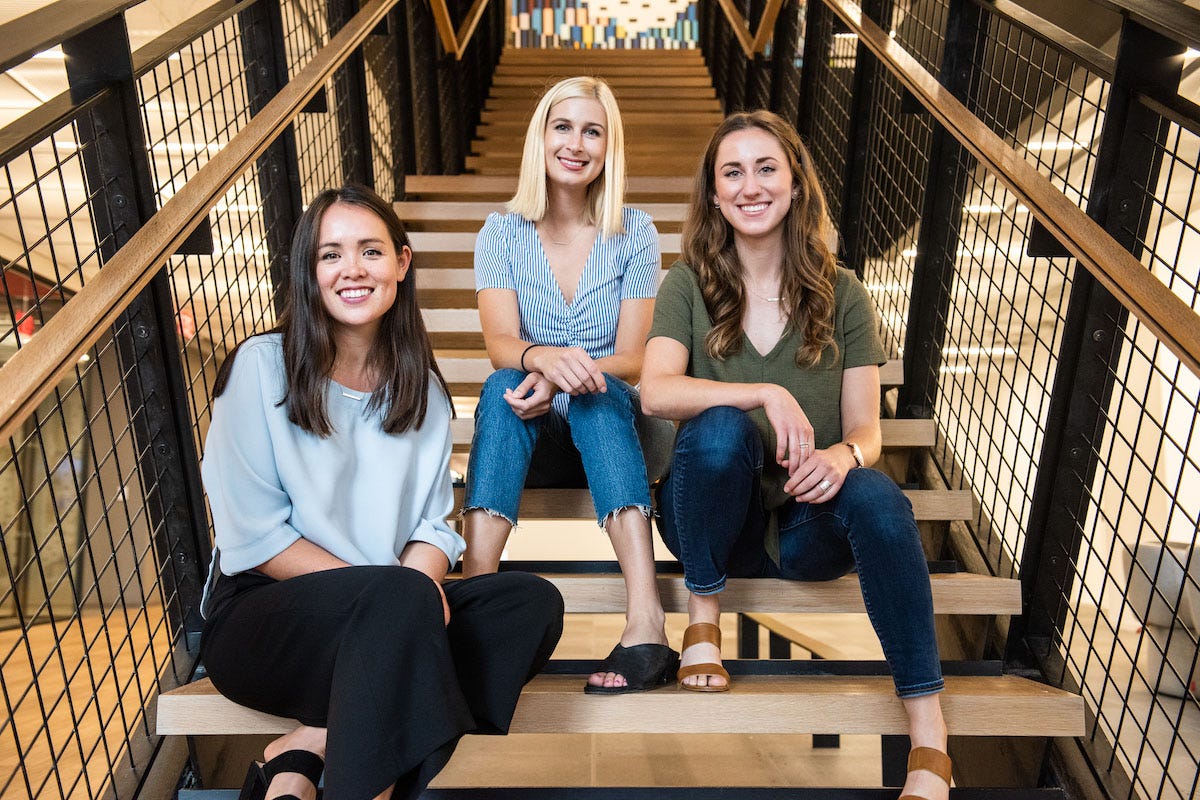 The three co-founders of The Gist (from left): Jacie deHoop, Roslyn McLarty and Ellen Hyslop // photo: courtesy of The Gist
Interview has been edited for length, clarity and flow.
Let's kick this off with the obvious question: It's 2020, so why aren't there more women in sports media?
Jacie deHoop: "It's something we definitely asked ourselves when we were starting at this. It's no secret that sports can feel like a boys' club, and I think that transcends all aspects of sports. So whether that's athletes in the actual participation, or the business side of things—from the C-suite executives to the content creators—it's a very male-dominated industry.
I think it stems from a lot of societal norms and expectations that relate to gender, but another big part of it is just that, you know, when you're not seeing something, it's hard to imagine it for yourself.
Right now, less than 14 percent of sports journalists are female. The content we all consume around sports is created by men and for men—for that really avid male fan. So improving some of these stats around the number of female journalists creating sports content is something we're dedicated to. Our entire content team is female."
I understand that the origin story for The Gist involves a girls' night in, a bottle of wine and a convo about hockey. Tell me about it.
deHoop: "Ellen, Roslyn and I had been working for a few years, and we were all in financial services, in heavily male-dominated, very corporate environments, where the exclusionary nature of sports talk—last night's game and the brackets and pools—can really be exacerbated.
The three of us were catching up over takeout and wine, and that night the Leafs had had some crazy win. It was like, Oh my gosh, it was this rebuild year and they weren't supposed to, and it was this huge underdog story. And the way Ellen—who's an avid, avid, avid sports fan—was breaking down what happened, and why it was a big deal, made it feel like sports was something I was into.
That very night, we were like, a) this was information I would've loved to have known earlier today, in my work meeting, when all these people were talking about it, and b) there's something so much more compelling about hearing it from your witty, sports-obsessed best friend. That passion is a lot more infectious. And so we thought, How fun would it be if you could get your sports updates regularly from Ellen?
At the time, we were all subscribers to theSkimm and saw how they built that sense of community through an email newsletter, which also felt like something easy to get off the ground, with low barriers to entry. So that night, we came up with the idea and put a Google Doc together on how we could execute it."
How did you land your first 500 readers? And then expand your audience across Canada and the U.S.?
deHoop: "We'll be hitting 100,000 this month. Our first 500 came from us making every single person we knew sign up. We were so shameless. I think that's what you have to do, honestly, in the early days. You need to be hounding your network.
Also, we hosted a big launch party with 250 people, at the Shopify offices, sponsored with booze and food and prizes. And we made every single person give us their email. We were very fortunate to be accepted to an incubator program [the Digital News Innovation Challenge], and as part of that, we received $50k in Facebook ads. We also ran tons of contests and leveraged a lot of partnerships to gain subscribers."
The Gist was conceptualized for female sports fans. Now, it's positioned as sports content by women, but for everyone. What inspired the shift?
deHoop: "We knew there was this underserved market out there, and to us, that was predominantly the female market. And then, as we were growing, we opened that up to understand that first of all, gender is a construct. So whether somebody is female or female-identifying, that's part of it, but really the issue we were trying to solve is improving inclusivity in sports, and making sports feel like something that's for you, for the many who don't feel that way. And that extends far beyond women. We have subscribers from all walks of life."
The Gist doesn't shy away from issues like
sexism, racism and homophobia in sports
. Are you more outspoken about critiquing sports culture than other media outlets?
deHoop: "One hundred percent. We are so much more outspoken and always stick to our values. Again, the reality is the sports industry has been created by, and is created for, predominantly avid fans, typically white male fans. That's why, for somebody who doesn't identify as those things, sometimes sports can feel a bit alienating. It's like, okay, I want to be an NFL fan, but I just heard about this thing Kareem Hunt did to his partner or what have you—there are so many incidents we can get into, and it's super disenfranchising when ESPN or another large media outlet doesn't take a stand for those things. When the leagues don't or the players don't. So that was a big thing for us: We were always going to have a really distinct voice. That isn't going to resonate with all people, and that's okay."
If you were mentoring women who want to launch startups in male-dominated spaces, what would be your top pieces of advice?
deHoop: "I have two that are super important. One is more tactical and relates to funding: The way that startups are glorified is often in terms of valuation or the amount of money they've raised, and because of that, it's easy to think startups = venture capital, and raising a $1 million round, and then raising a $4 million round.
Unfortunately, the VC world is also really male-dominated. And when you have that female perspective or a female-focused product, sometimes it can be tricky to fundraise in that space. Keep in mind there are a lot of creative ways to get funding, and research all the different avenues available to you.
Second, remember that your female perspective, and you as a woman in this space, is your competitive advantage. There will be many times when you're speaking with somebody who has years and years of experience in the industry—an investor, advisor, brand partner—and they're going to tell you, 'This is what you should do' or 'This is what's happened in the past.'
But a lot of times we underestimate that a diverse perspective is actually what's needed. It's difficult to see when you're just starting out, and easy to follow a more prescriptive path. Be open to advice, but recognize that you think of things differently, and that's for a reason. That's what will set you apart and make you successful."
Subscribe to get The Gist's free newsletter every Monday and Thursday, and tune in to the weekly podcast, The Gist of It.
---
NEWS FLASH
What I learned this week: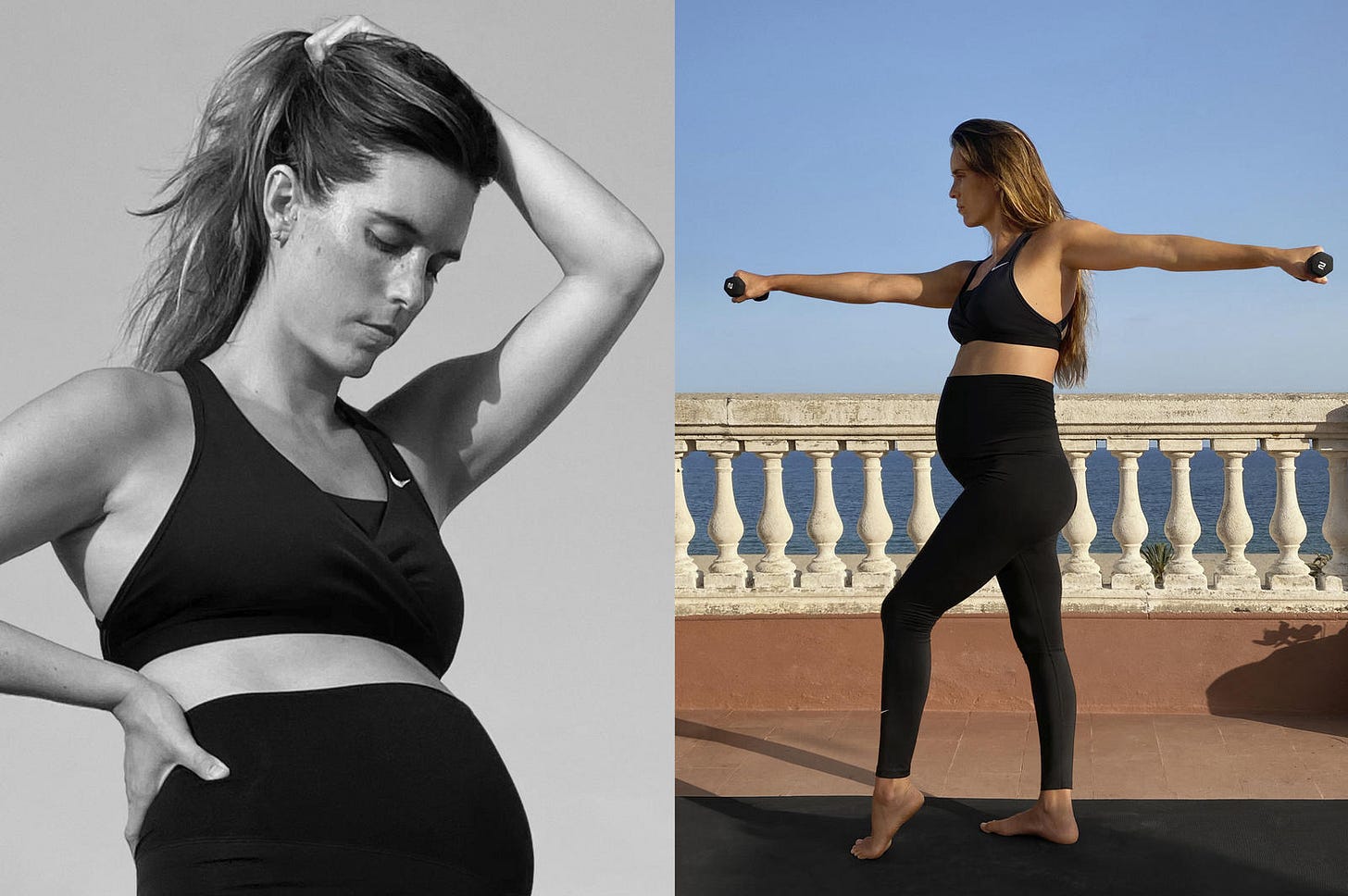 Spanish Olympic synchro swimmer Ona Carbonell, sporting pieces from the upcoming Nike (M) line // photo: news.nike.com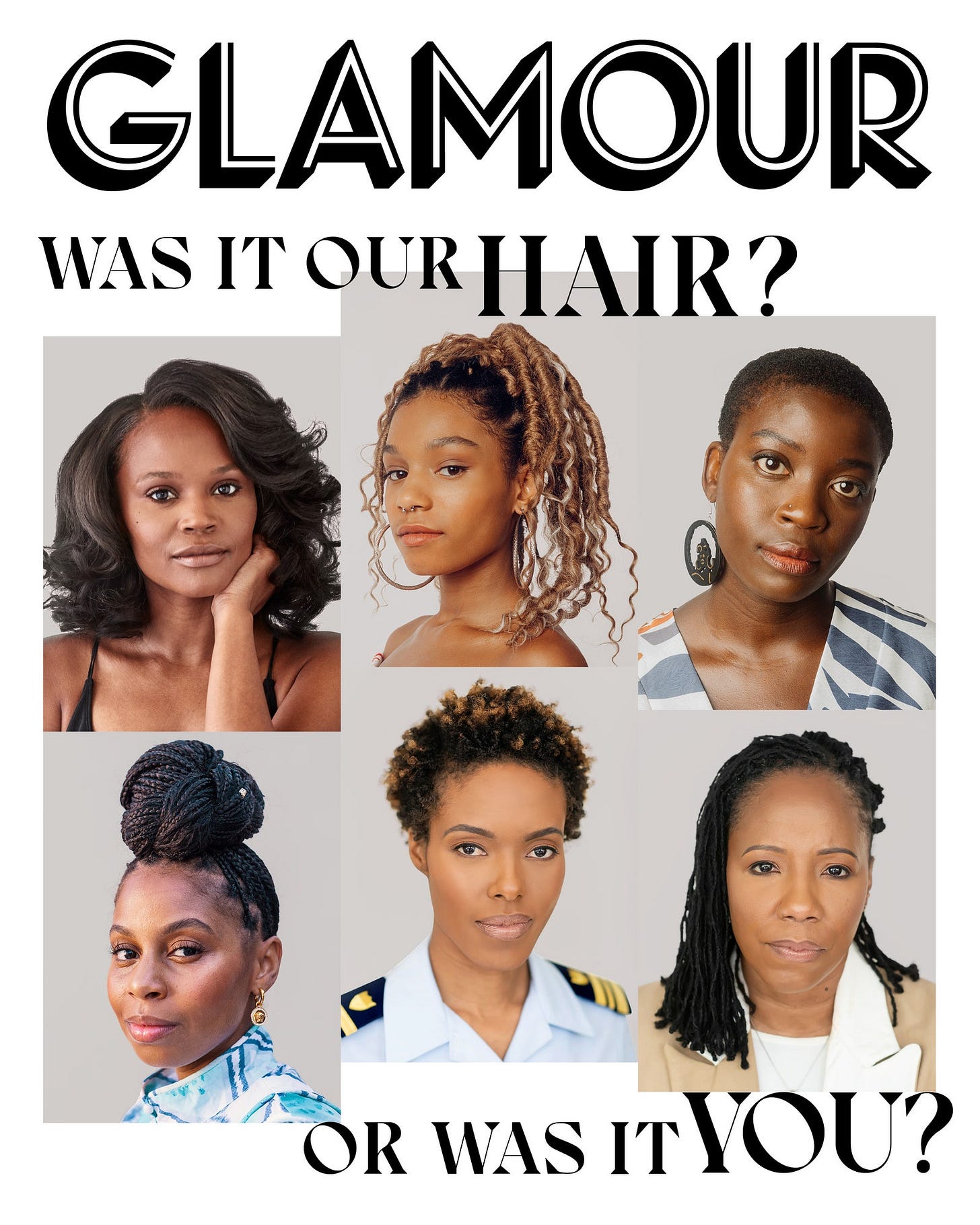 The September 2020 cover of
Glamour
---
TIME WELL SPENT
For this week's shortlist of things to do right now, I enlisted a guest editor: fellow journalist Stacy Lee Kong, founder of Friday Things, an email newsletter offering some of the sharpest, most thoughtful takes on pop culture/entertainment. Subscribe here!
And read on for Stacy's recommendations:
Here's one more recommendation—from me:
---
OPPORTUNITIES & RESOURCES
---
LAST BUT NOT LEAST
If you're wondering who's writing this:
My name is Wing Sze Tang, and I'm a freelance journalist. I've spent much of my career telling stories for some of Canada's biggest magazines, like ELLE Canada, FASHION and FLARE. (Find some of my articles here.)
You can support this free newsletter (thank you) by forwarding it to your friends, sharing it on social media, or sending me a note with your thoughts.
Email comments, questions or a hot tip about something cool to wing@theknowhow.news.
Thanks for reading, and see you next week!