How to build a grandiose vision
FLIK co-founder Ravina Anand doesn't care if you think she's scatterbrained

Hi, I'm Wing Sze Tang and you're reading The Knowhow, a weekly newsletter featuring stories and strategies from women sparking change. As a longtime journalist, I wanted to create a space for highlighting high achievers, boundary breakers and up-and-comers across industries, from arts and culture to science, politics and sports. I hope you find each edition interesting, informative and/or illuminating in some way. If this issue was forwarded to you, add your email below to join the list!
---
IN THIS ISSUE
(Switching up the usual order of things, just to see what works best.)

NEWS FLASH
What I learned this week:
WHAT ELSE I'M READING
---
HOW TO BUILD A GRANDIOSE VISION
When I started this newsletter, I decided to call it The Knowhow because the ancient cliché "knowledge is power" is true, and I also believe the planet would be a better place if we could learn more from women leading the way. So I was intrigued when I heard about a Vancouver startup called FLIK (Female Laboratory of Innovative Knowledge), which is on a mission to change the world—or in their words: "to advance womxn's economic participation and accelerate womxn-led ventures globally."
The company was founded by two roommates-turned-social-entrepreneurs who've already racked up a bunch of impressive accolades: Ravina Anand (this year's winner of The Diana Award) and Michelle Kwok (winner of the YWCA Metro Vancouver's Young Woman of Distinction Award). The online platform they've created connects womxn-identifying/non-binary founders with verified female apprentices from around the world for remote mentorships (click here for the application criteria).
The apprentices work on meaningful projects part-time for three months, which is a win-win. This isn't the kind of mentorship where you're just getting the occasional coffee, explains Anand during our recent interview. "These young women have chances to gain experiential learning and put their background into action," she says. "And these female founders have the ability to build out their business with someone who's as passionate about their mission as they are."
Since the portal launched in beta in January, FLIK has received applications from around 1,200 womxn founders and more than 3,110 apprentices from over 45 countries, including students from Oxford, Harvard, NYU and Abu Dhabi. They've matched about 1,000 womxn, and they've only just begun. Read on for my chat with Anand on how she and Michelle got the social enterprise off the ground, why she reverse-mapped her "grandiose vision," and why she doesn't believe in creative pigeonholing.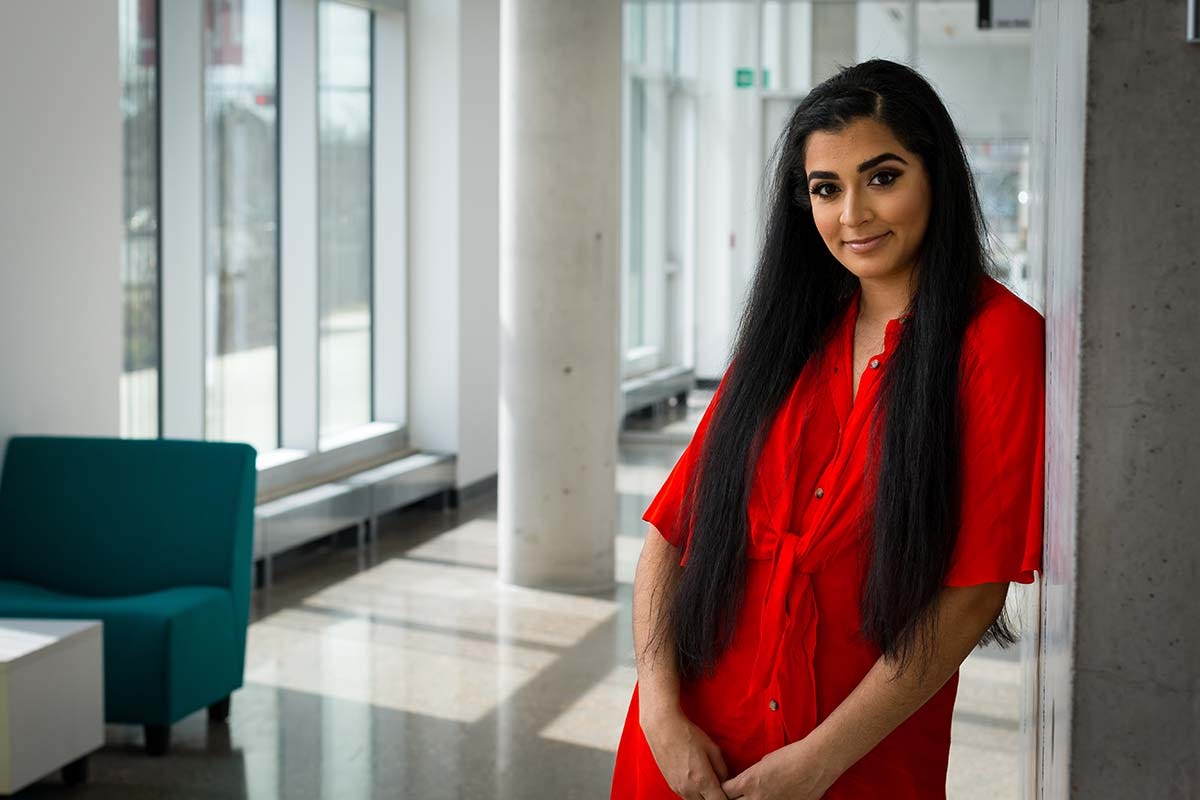 Ravina Anand, co-founder, COO and chief of innovation at FLIK
Interview has been edited for length, clarity and flow.
When I came across

FLIK

, I thought it was such an interesting concept. How did you launch it?
We started out last June as a media company, actually. To give you some backstory, Michelle and I met in May 2019 when we were part of a startup accelerator program called Next 36. And we quickly realized we were among the few female entrepreneurs in it. I walked in and was like, Whoa, I'm the only South Asian woman. It was definitely a learning curve because both Michelle and I came from STEM backgrounds, so entering the world of business and male egos was something else. 
There are female founders and investors out there, but in our program, we weren't necessarily being connected to that female energy around us. About a month in, Michelle and I kind of took a step back and decided, We should just cold-email all these female founders we both really admire. To our surprise, within 48 hours of incorporating and creating a website—basically being a fake company, in a way—a lot of these women said yes to us. We had the opportunity to travel to New York, interviewed women like Kim Kaupe [co-founder and CEO of The Superfan Company] and Polly Rodriguez of Unbound Babes, and just had a wonderful time. 
We even emailed—you're gonna laugh—Arianna Huffington. Our mindset was the worst thing that can happen is a no. I've had a lot of rejection letters from different programs I've applied to, so I was completely fine with getting a no. But anyway, she did respond to us. She just wasn't in New York at the time.
Why did you decide to pivot from that original concept of a media company into what FLIK is now, a platform for mentorships?
We were living at the U of T Graduate House at the time [for Next 36], and my entire room had these poster boards with what we thought FLIK could become. It had three components: There was FLIK Media, and FLIK House, which was that ecosystem we felt was missing from co-working spaces. And the third stream was FLIK Invest. Really, at the root of all three components was [the question], how do we ensure we're not just highlighting women, but also creating quantifiable changes? 
We mapped out our vision for 10 to 15 years, then mapped backwards: What is the MVP of this grandiose vision? Often we're told, just start with the MVP, but it was therapeutic for us to splash all the ideas out there, so as we go through our journey, we aren't constantly being taken over by those ideas and having our vision sort of blocked.
Through our interviews with female founders, we noticed that even if they were doing fairly well, it was hard for a lot of them to find the resources and talent to affordably scale. Then as we were putting up this content, we were getting organic feedback from young people saying, "I've never heard of this woman before," and "I didn't know entrepreneurship could look like this." It was that feedback that put us in this place: Oh, let's connect these women. How can we do that? Let's build this apprenticeship program.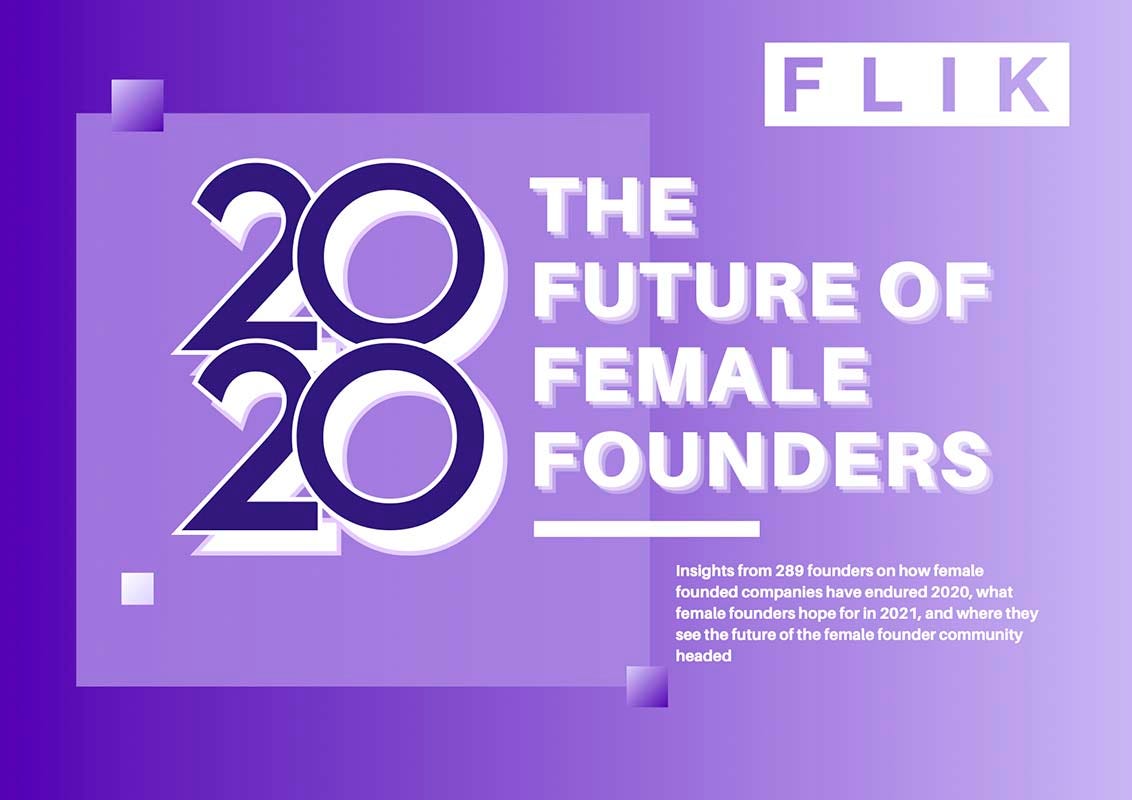 Earlier this week, FLIK published "

The Future of Female Founders 2020

," with survey insights from 289 (primarily early-stage) founders
We also asked, how can we build out a platform that's able to reach women beyond Canada? Our greater mission is to help women from disadvantaged areas or high potential areas, such as India and Africa. Often, there's a mistaken belief that these women don't have access to the Internet—which is true for some in rural areas—but actually many do. So that's why we developed this portal, accessible from anywhere in the world, and you're able to do virtual apprenticeships.
If you were mentoring someone, what key lessons would you want to pass on?
One thing I always tell people is, don't take advice so seriously. When I'm providing recommendations, I say, "By the way, you don't have to listen to this. These are just open suggestions." Every journey is so different, based on people's backgrounds, lived experiences and knowledge. 
Besides being authentic to who you are, the second thing is having an open mindset about what you can build, create and pursue. I studied sciences as my undergrad. Then I took on extra courses under a supervisor and did research in religion and politics, situated mostly in freedom of speech. Afterwards I ended up doing a Master of Public Policy and Global Affairs, focused on security and defense. So random, right?
Society and the people around you, including extended family, try to put you in a box. I really sheltered myself from telling people what I was working on because I could feel people's energy: This girl's all over the place. She's not going to be something, she's so scatterbrained. She doesn't know what she wants. But the truth was, I really knew what I wanted. I knew those big goals I wanted to achieve, and the smaller building blocks I wanted to reach in order to get this greater mission. So I found that very frustrating.
A lot of my mentees say, "I just don't know what to do. I love this, and this, and this." And I tell them, don't listen to the world that claims you have to pick one. There's a way to get creative and bring them all together. The final piece of advice I usually give is to chase your convictions with courage.
---
OPPORTUNITIES & RESOURCES

LAST BUT NOT LEAST
If you're wondering who's writing this:
My name is Wing Sze Tang, and I'm a freelance journalist. I've spent much of my career telling stories for some of Canada's biggest magazines, like ELLE Canada, FASHION and FLARE. (Find some of my articles here.)
You can support this free newsletter (thank you) by forwarding it to your friends, sharing it on social media or sending me your thoughts. I check my email (wing@theknowhow.news) far too much.
Thanks for reading, and see you next week!