Underestimated, underpaid, underrepresented
An unintentional theme in this week's news

Hi, I'm Wing Sze Tang and you're reading The Knowhow, a weekly newsletter featuring stories and strategies from women sparking change. As a longtime journalist, I wanted to create a space for highlighting high achievers, boundary breakers and up-and-comers across industries, from arts and culture to science, politics and sports. I hope you find each edition interesting, informative and/or illuminating in some way. If this issue was forwarded to you, add your email below to join the list! —@wingszetang
---
This week's edition is a little shorter—but I have a few interviews in the works I'm excited to share with you. Soon! On that note, if you know someone super cool I should spotlight, have a hot tip to pass along, or want to recommend a great article/podcast/playlist (or whatever), send me a note at wing@theknowhow.news.

NEWS FLASH
What I learned this week:
WHAT ELSE I'M READING

TIME WELL SPENT
A shortlist of things to do right now:
SHOP: Marketing/PR pro and illustrator Nuria Madrenas founded Mrkt Gallery last year with the mission to highlight women artists, who are absurdly underrepresented in the industry. Now, she's partnered up with the Art Gallery of Ontario on a virtual pop-up, where you can shop an edited array of prints, like the ones below, for $50 each. Check out lots more artists on Mrkt's site, too.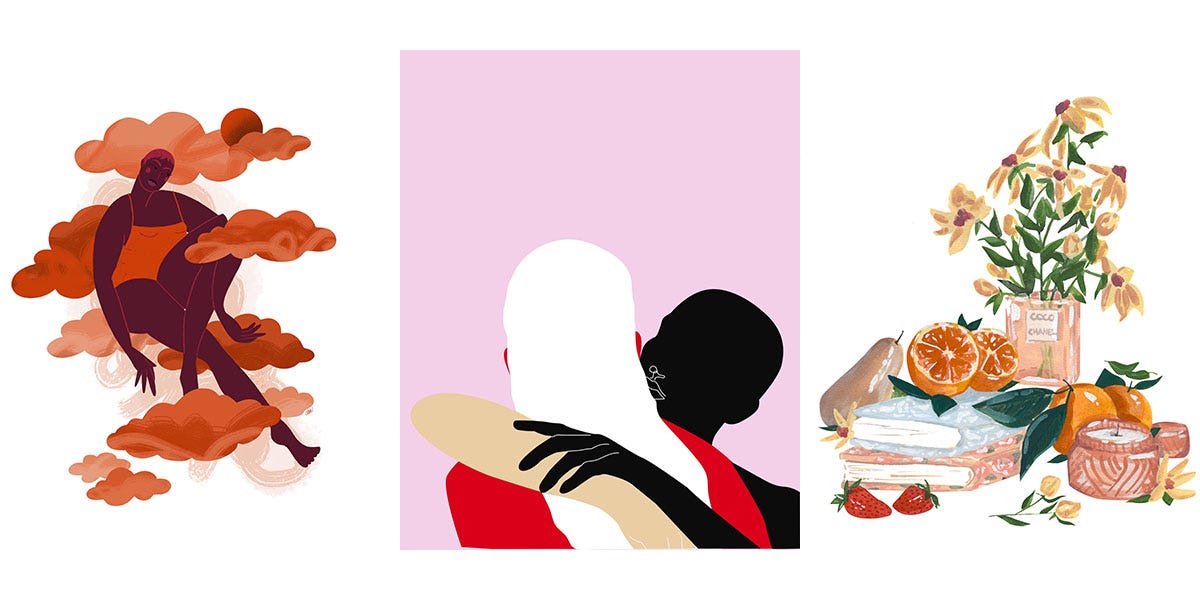 From

Mrkt Gallery x AGO

(from left):

Finding Space

by Carmen Lew;

Social Women

by Rachel Joanis;

Still Life

by Sabina Fenn // images: courtesy of Mrkt Gallery
WATCH: The latest TikTok challenge has Gen Zers wishing Rep. Alexandria Ocasio-Cortez a happy birthday while doing makeup tutorials and lip-syncing her legendary comeback to being called "a f*cking b*tch," mashed up with audio from Kendrick Lamar's "Humble." Enjoy this delightful compilation.
SUPPORT: Recently I've been researching carbon offsetting for work. While the subject's complicated, supporting a project doesn't have to be—you can do it through Gold Standard, created by environmental and development NGOs, starting at $10 USD/tonne of carbon. Worthy initiatives you can back include Indonesia's first utility-scale wind farm and reforestation in Panama. While buying offsets isn't a cure-all for our climate emergency, it feels more helpful than wallowing in despair (or recycling plastic, which is apparently largely a con).
---
OPPORTUNITIES & RESOURCES
Futurpreneur and RBC have partnered up to launch the annual RBC Rock My Business Start-Up Awards. Eight aspiring entrepreneurs across Canada will be given $10k each to kickstart their small businesses.

Launchpad Summit is a four-day virtual career conference for artists, designers and other creatives, happening November 2-5. Tickets are pay-what-you-can.

The Gist—the women-run sports media startup you may remember from one of my earliest newsletters—has just launched a job board.

WORTH REPEATING

LAST BUT NOT LEAST
If you're wondering who's writing this:
My name is Wing Sze Tang, and I'm a freelance journalist. I've spent much of my career telling stories for some of Canada's biggest magazines, like ELLE Canada, FASHION and FLARE. (Find some of my articles here.)
You can support this free newsletter (thank you) by forwarding it to your friends, sharing it on social media or sending me your thoughts. I check my email (wing@theknowhow.news) far too much.
Thanks for reading, and see you next week!