What I learned from running icon Deena Kastor
Welcome to the first issue of The Knowhow

Hi, I'm Wing! If you're getting this, you're probably a friend, a pal of a pal or an inquisitive early adopter. In any case, I'm happy you're here.
You're reading the first issue of The Knowhow, a weekly newsletter featuring stories and strategies from women sparking change. I wanted to create a space for highlighting high achievers, boundary breakers and up-and-comers across industries, from arts and culture to science, politics and sports.
I was inspired to start this because the modern workplace isn't a level playing field; we're still having overdue conversations about representation, diversity and inclusion. While deeply entrenched systemic problems can't be downplayed, knowledge is power (hence the name of this newsletter), and there's a lot we can learn from seeing, hearing and amplifying women. Expect interviews with brilliant people, noteworthy headlines, info on resources and opportunities, tidbits about random stuff I love and more.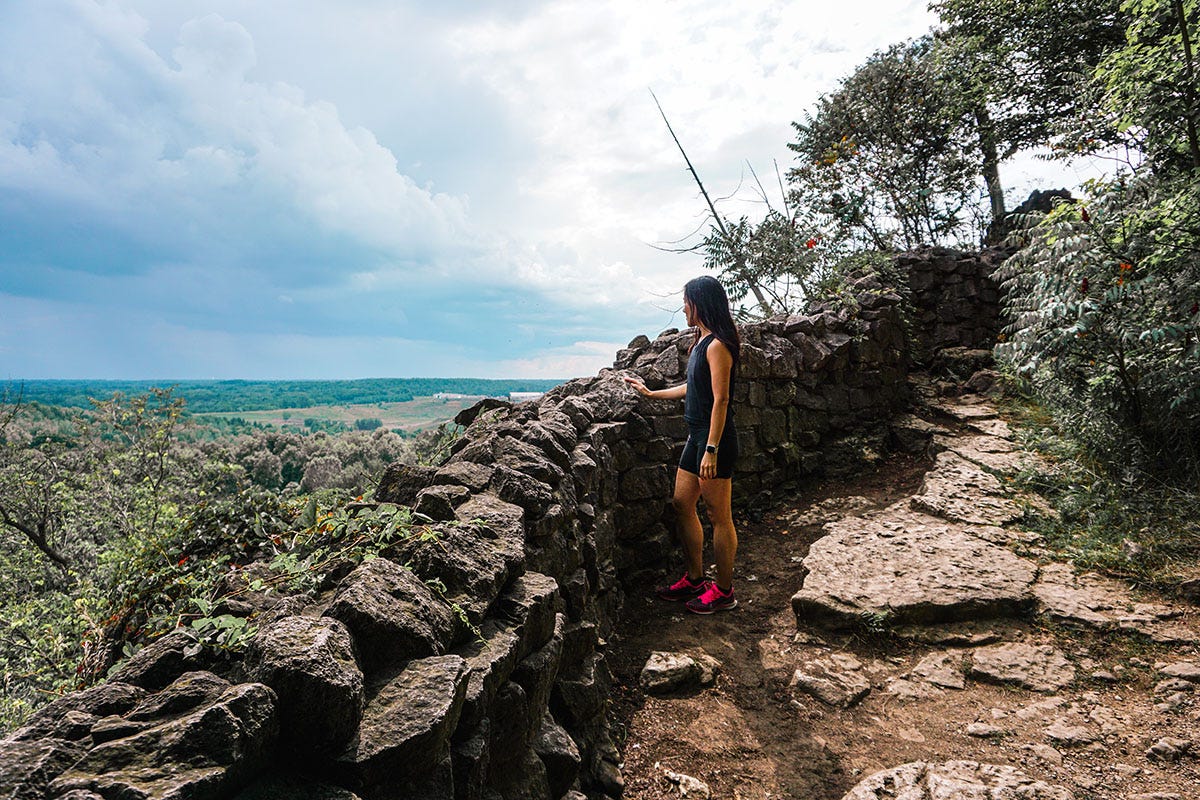 That's me above, city girl to the core, learning to enjoy (?) nature
A bit about me: Telling stories is my thing. My background is in lifestyle journalism, and I spent many years as an editor at FASHION and FLARE, two of Canada's biggest women's magazines, covering the health and beauty beats. I've also written for ELLE Canada, The Kit, S/ Magazine and lots of other places. (Find some of my articles here.)
I consider this an experimental, evolving space, so get in touch and let me know what's on your mind. Click subscribe if you haven't already, and you'll get this newsletter once weekly. See you again soon!
---
MIND GAMES FROM DEENA KASTOR, RECORD-SMASHING DISTANCE RUNNER
Recently, I got through some sweltering solo long runs by listening to the audiobook for Let Your Mind Run, Deena Kastor's NYT-bestselling memoir of how her mental game paved the road for her still-unmatched athletic feats. Among her many accomplishments, Kastor ran the 2006 London Marathon in 2:19:36—a standing record that makes her the GOAT of American women's distance running.
But despite her vast, obvious natural talent, Kastor had to figure out how to get over feelings of fear, negativity and self-doubt to reach the top. Stars—they're just like us! I found this oddly reassuring. If grit is a practice, not a gift, we can all hone it.
When I learned that the sports icon has been hosting Zoom chats through Airbnb Experiences on the topic of cultivating optimism, I signed up. Last week, from her home in the ski-resort town of Mammoth Lakes, California, a margarita in hand after a frazzling day, Kastor showed us her prized hardware—a bronze medal from the 2004 Athens Olympics—and talked us through some of her winning tactics.
Here's some wisdom that stood out for me.
How to keep going
Whatever you're doing, start with purpose, so you're more attached to the outcome, says Kastor. In a marathon, knowing your motivation will steel you for the final sufferfest miles, when you're questioning your life decisions and wondering who even cares what happens. Kastor's been there, felt that: "I get there so often—I'm like, It's a dumb race on a stupid weekend. There's gonna be one next weekend, or the weekend after that. But as soon as I backpedal on the goal, as soon as I say, 'This doesn't matter anymore,' I think, You know what? I'm right, this race doesn't matter—but my character does. And I don't want to be the person who, when faced with a challenge, gives up."
Kastor claims she wasn't born with such grit. "I practiced and practiced and practiced until it became a habit, and it became the fabric of who I was," she says. "We can work at being whoever we want to become. Our minds are malleable."
How to snap out of failure
All we have of the past is our perspective on it, says Kastor, so when you're in the moment, shape it in a positive way. It's a lesson she learned through bitter disappointment, after her first national cross-country championships as a pro athlete. Her total confidence at the start line was swiftly crushed by the competition: "I had my eye on the target ahead, thinking, I'm going to pass this girl, only to be passed by six," says Kastor, who finished nowhere close to her goal of being in the top five. "Back in my hotel room, I cried and cried and cried, and screamed in my head, How delusional could you have been to think you could do this as a profession?"
A knock at the door interrupted her "obnoxious state of mind," she recalls. It was her coach, Joe Vigil. "He said, 'I'm glad you're disappointed. That means I'm not wasting my time.'" It snapped her out of self-pity. "Failure, you wear for a while—it feels debilitating and fixed," Kastor explains. "And for him to say, 'Oh, you just expect more out of yourself. Let's get back to work,' this put me back in the driver's seat. It gave me my power back immediately."
Check out Let Your Mind Run for much more on how Kastor gets into the right headspace.
---
NEWS FLASH
What I learned this week:
If the pandemic has you feeling a disconcerting mix of anxiety-laden ennui and exhaustion, with an inability to focus, you've probably depleted your "surge capacity." Here's how to deal.

The 19th Amendment, which extended the right to vote to American women, passed 100 years ago this month. But the role played by suffragists of colour, left out of history books, is still being resurfaced. A digital exhibition, Truth Be Told, aims to tell a more complete story, highlighting the activism of Black women.

Malala Yousafzai, the youngest Nobel laureate ever, just graduated from Oxford. Now she wants you to join her feminist book club.
---
TIME WELL SPENT
A shortlist of things to do right now:
How are you spending your time? Hit reply and share your new favourite thing with me.
---
WORTH REPEATING
---
OPPORTUNITIES
The Monday Girl Mentorship Program for Black Women+ includes four weeks of digital events, coaching and mentorship. Open to those in the Greater Toronto Area. Cost: free. Application deadline: August 26.

The new Gimlet Podcast Mentorship offers training specifically for BIPOC creators, with the goal of elevating diverse voices in podcasting and audio. Cost: free. Application deadline: August 28.

All Raise Seed Bootcamp is a five-week program designed to help female founders ace their first funding round. Cost: free. Application deadline: September 9.
---
LAST BUT NOT LEAST
I'm notoriously awkward at shameless self-promotion, but well, I'm working on it! You can support this free newsletter (thank you) by forwarding it to your friends, sharing it on social media, or sending me a note with your thoughts.
Email comments, questions or a hot tip about something cool to wing@theknowhow.news.